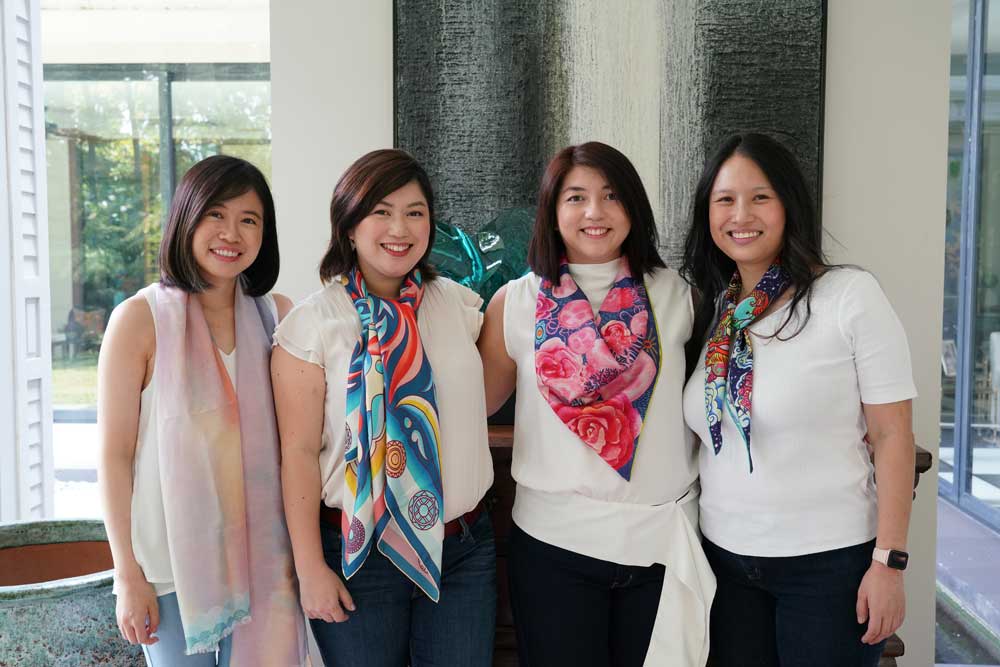 Say "Filipino art" and what comes to mind are obras in museums and spray-painted scenes on walls or jeepneys. One is revered; the other, experienced. 
Local fashion brand JIM Weaver Designs has stitched the two together, weaving Pinoy art, culture, talent, and even humor, into luscious silkwear items that are stunning to behold as they are fun to style.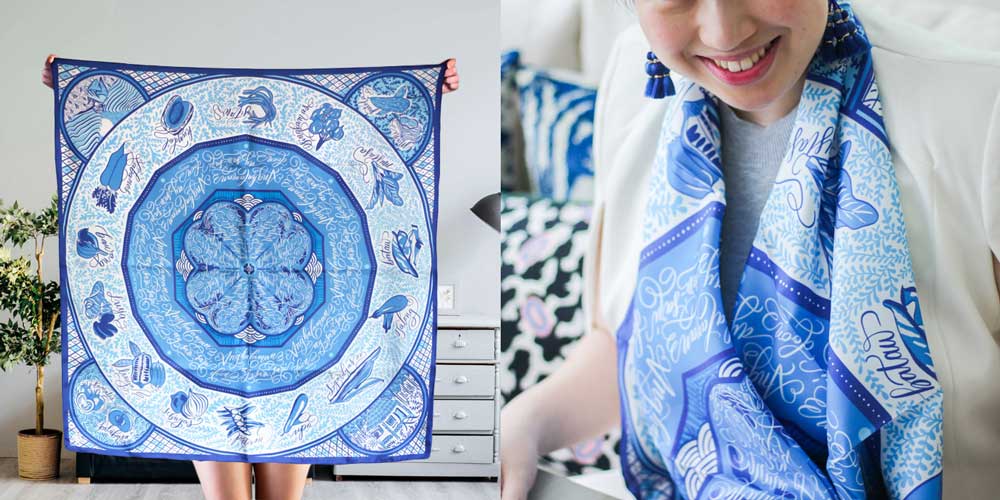 Best known for their scarves and pocket squares made of 100% natural silk twill and with hand-rolled hems that make each piece unique, JIM Weaver Designs has gained a global clientele, collaborated with Pinoy fashion icon Francis Libiran, partnered with WWF Philippines, and expanded to home décor, in the span of a few years.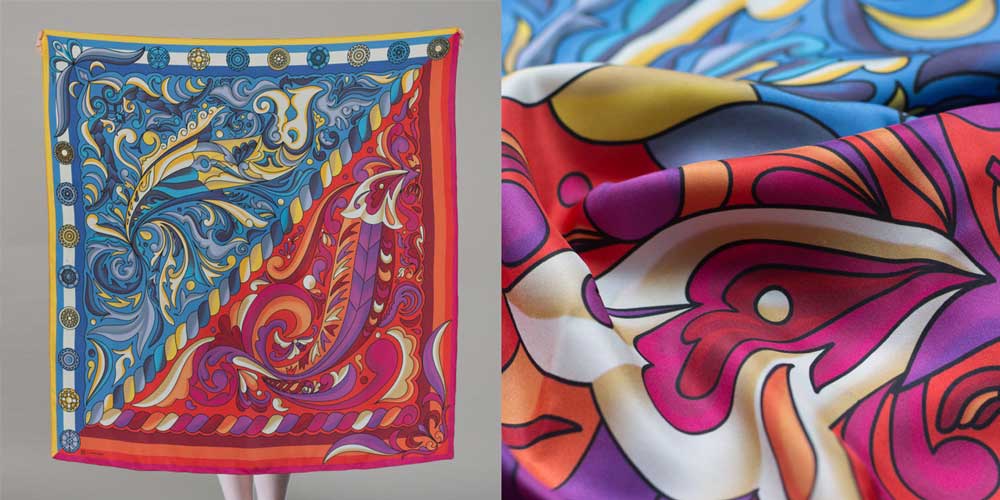 Stories Told on Silk
It all began with four friends—sisters Mischel and Isabelle; Jenica and Jenica, coincidentally—their stories told on silk canvases, where creative director and local artist Isabelle Ocier's playfulness comes to the fore.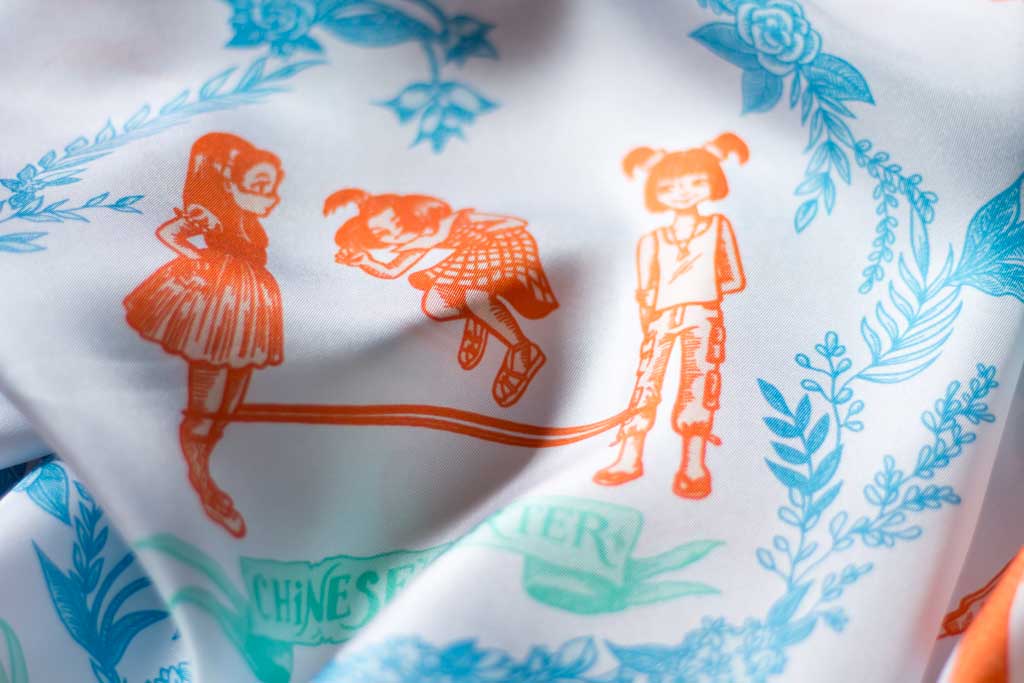 She shares: "Injecting personal artifacts and Easter eggs makes the artwork extra special, lending uniqueness and identity that can speak to someone and make them go 'Oh, that's so me!' as if sharing an inside joke. 
It really warms the heart when people find them and get that sense of nostalgia—favorite Filipino sweets and snacks, games we played at recess, toys from our childhood. Closer to home and my heart, I've drawn in my nieces in a recent design, and my friends' dogs too! It's one thing when clothes fit the body; another when design connects with your soul."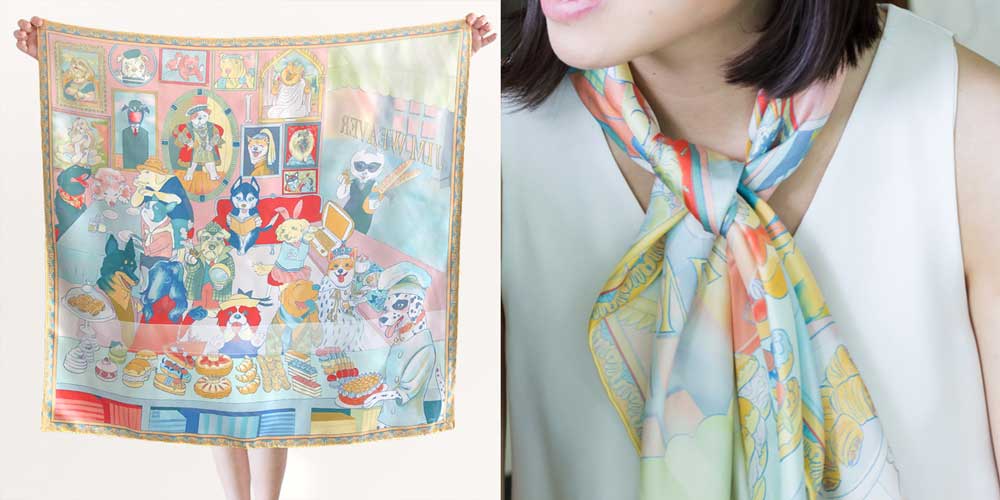 And it isn't just their stories told strand by strand on JIM Weaver designs. Folklore, environmental phenomena, and pop culture have been captured on silk; and on a very special occasion, a couple's romance.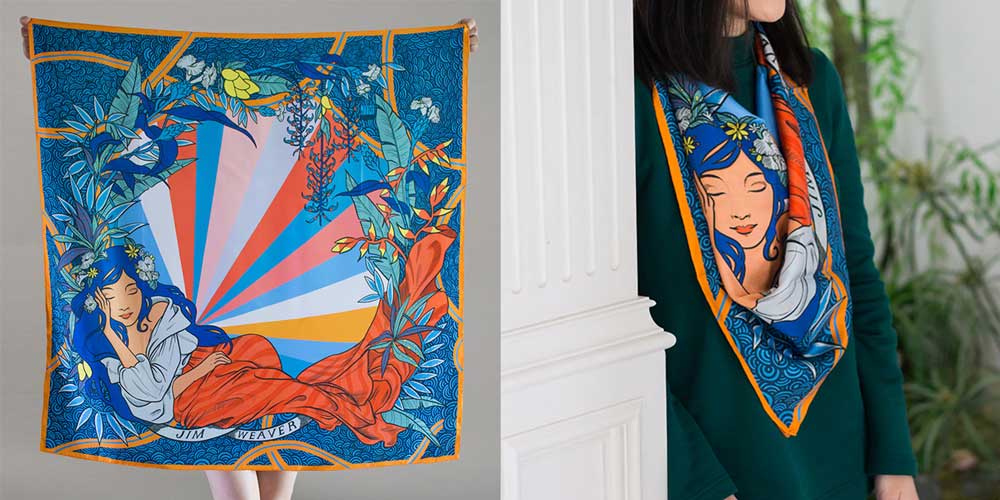 "JIM has been part of many weddings, as groomsmen's pocket squares, gifts for ninangs, a bridal accessory… but one of our most unforgettable JIM weddings was when we were asked to design a kerchief scarf that depicted landmarks and moments from the bride and groom's love story," recalls Jenica Siy, co-founder and technical director. 
A Celebration of Home
For co-founder and financial director Mischel Ocier Mendoza, it is the richness of our culture that so easily makes JIM Weaver designs a joyous expression, a colorful celebration of all things Pinoy. 
She shares, "We put boodle fight, halo-halo, fishball, and Bahay Kubo on scarves and masks, so wherever you are, you have a piece of home that will make you smile."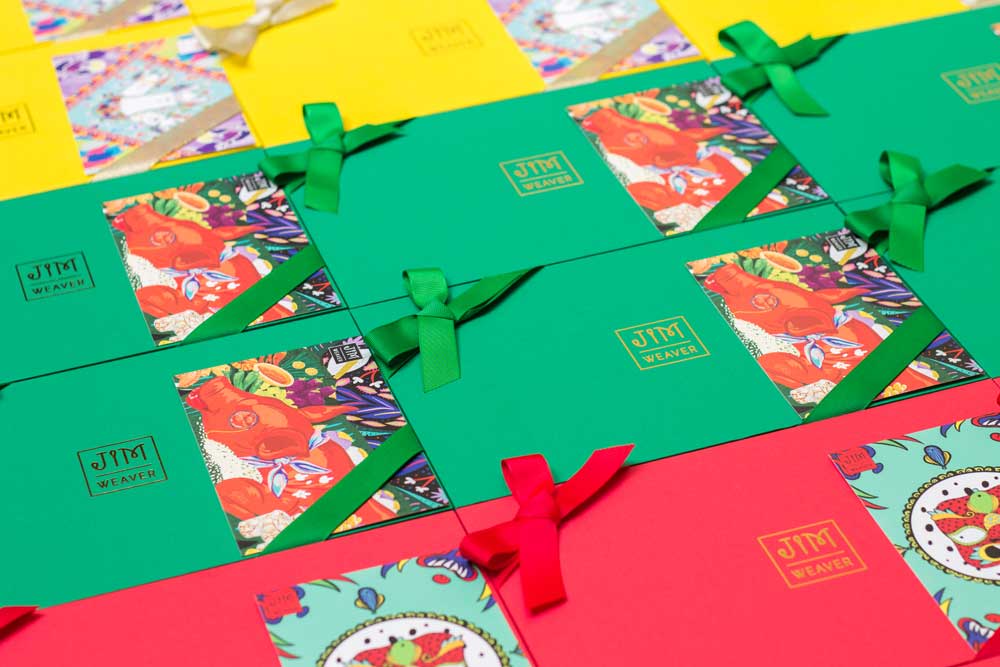 Indeed, the JIM Weaver team has delivered countless sweet messages in their gift boxes sent all over the globe. While these are often Christmas, Valentine's, birthday, or anniversary wishes, the pandemic saw encouraging words being exchanged by loved ones to get through the suddenly tough times.  
"We designed and produced our reversible fabric masks to be something of beauty amidst widespread fear and stress," shares co-founder and the team's accountant, Jenica Kaw. "It became a way for families and friends who couldn't physically be together, to have a shared symbol of hope and care."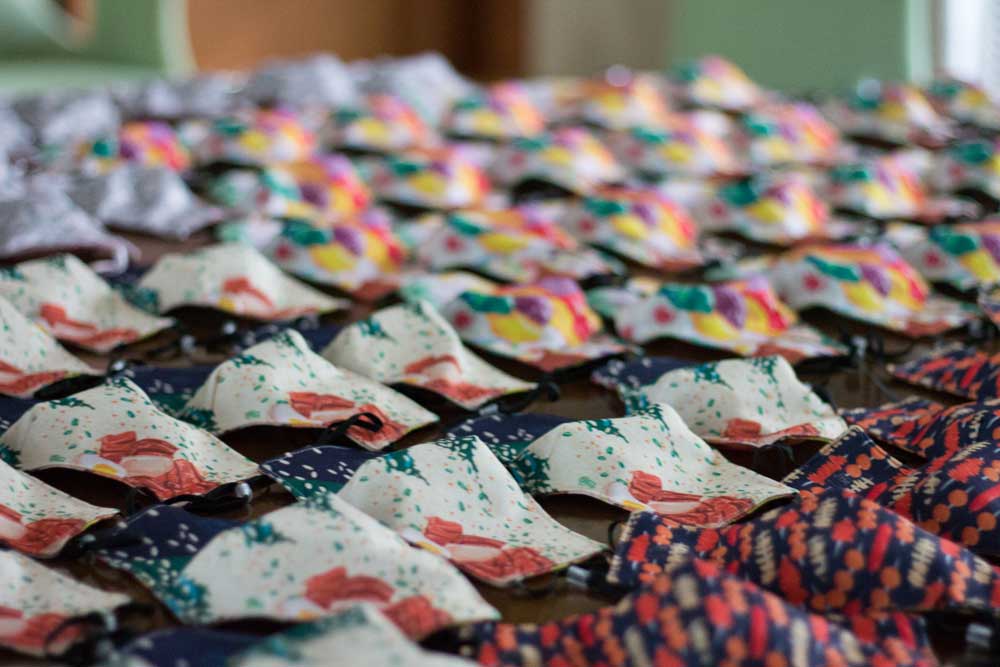 As the world slowly leaves social distancing behind with a relieved sigh, feasts and gatherings resume with vigor, resounding with laughter and the clatter of cutlery on dishes piled high with Pinoy food favorites. 
JIM Weaver celebrates alongside Filipino families everywhere, with the launch of their Home collection—perfect additions to exquisite tablescapes that set the stage for memorable meals. 
Long in the making, the placemat and coasters bring JIM Weaver designs beyond personal style to shared experiences.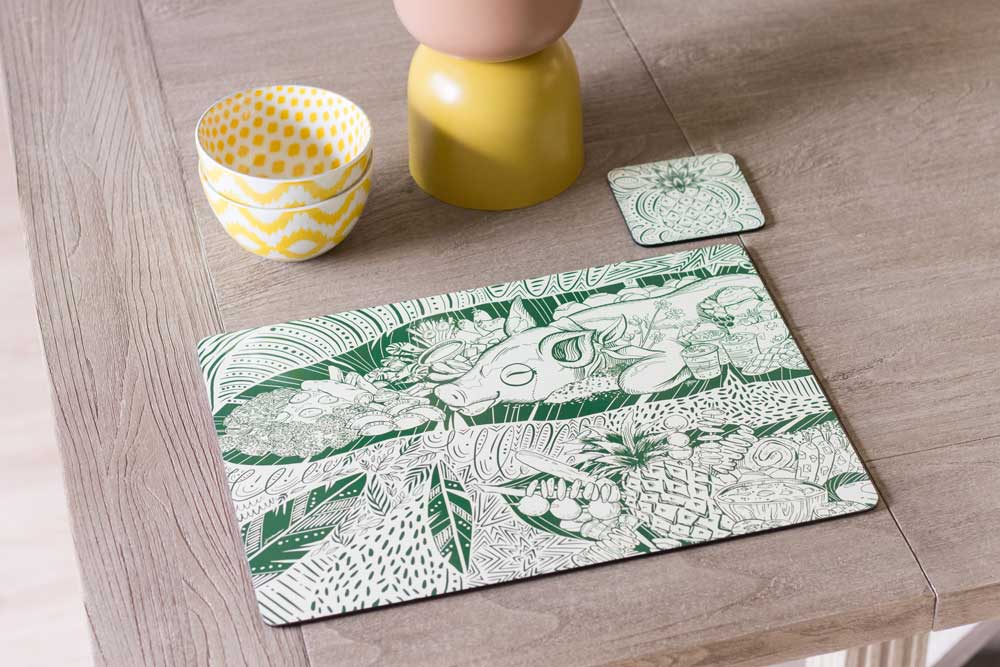 From one collection to the next, piece by masterpiece, this proudly Pinoy fashion and home brand reaches across time, islands, and facets of local culture to create works of modern Filipino art meant to be held, worn, and treasured for seasons to come.  
To see the full JIM Weaver collection of scarves, pocket squares, and tableware, visit JIMWeaverdesigns.com or follow them on Instagram @jimweaverdesigns